Yuasa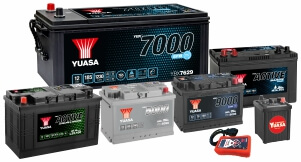 Yuasa
GS Yuasa Corporation, one of the world's largest battery manufacturers and a global leader in quality and innovation. The GS Yuasa Group consists of 65 subsidiaries and 33 affiliates in countries throughout the world.
GS Yuasa provides an extensive range of high-quality automotive, motorcycle and industrial batteries for applications from the deep sea to the outer space.
From 2017 "Jupojos technika" is an official distributor of GS Yuasa products.
You can download the following brochures:
BATTERY RANGE BY CATEGORY:
AUTOMOTIVE:
• Claccic automobiles
• YBX1000 CaCa batteries
• YBX3000 SMF batteries
• YBX5000 Silver High Performance SMF batteries
• YBX7000 EFB batteries
• YBX9000 AGM batteries
• Yuasa auxiliary, backup & specialis batteries
COMMERCIAL VEHICLES:
• YBX 1000 SHD
• YBX 3000 SHD
• YBX 5000 SHD
• YBX 7000 EFB
MOTORCYCLE AND POWER SPORT:
• High efficiency maintenance-free
• Maintenance-free
• Tradiciniai 6 V, 12 V
• Yumicron; Yumicron CX

INDUSTRIAL:
• Pro Spec – Deep Cycle
LEISURE, MARINE AND GARDEN:
• Garden applications
• YBX Active Leisure and Marine
• YBX Active Marine
CHARGERS AND ACCESSORIES:
• Accessories
• Testers and analyzers
• Yuasa smart chargers and accessories
---
Follow the link to Battery Finder to find the batteries you need by entering VIN number or cross-reference or browse by category, vehicle make & model.
---
CONTACT US:
by phone +37061676200
by email – PRESS TO WRITE
(Japan)